Support for Hon'ble Prime Minister's VC during the launch of Rozgar Mela event on 22nd October 2022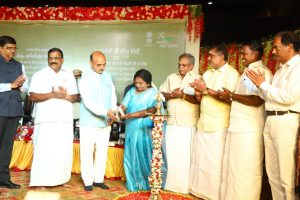 As per the direction received from NIC, Hqrs and also based on the request received from officials of Postal department, Puducherry, the necessary technical support provided for conducting the Video Conference (VC) was extended at functional site Kamban Kalaiarangam on Trial Run and during Live event of PM Rozgar Mela 2022 on 22-10-2022.
There were around 300+ participants along with the newly inducted appointees participated in this virtual meeting at Puducherry.
Hon'ble Prime Minister of India participated and addressed virtually through Video Conferencing with all desired sites.
As a part of the Rozgar Mela programme the Minister of State for Finance Dr. Bhagwat Krishnarao Karad, Puducherry Lieutenant Governor Dr. Tamilisai Soundararajan jointly issued 57 appointment letters to the newly selected candidates. 47 appointment letters from the Department of Posts, 4 from Indian Bank, 4 from Employees State Insurance corporation and 1 letter from CRPF issued on Saturday.
Puducherry assembly Speaker Emblem Selvam, Government of Puducherry Home Minister Shri. Namasivayam, Civil Supplies Minister Shri Sai J Saravanan Kumar and senior Government officials and Post office officials participated in the function.
The video conferencing was connected with Hon'ble PM office site (Host site) using the Bharath VC link provided to Postal Department. The event went very well and was appreciated by Lt. Governor, GoPY and Council of Ministers, GoPY who had participated. Also, official of Postal Department has appreciated the efforts of NIC, Puducherry UT Unit for smooth operational support of VC program during the event.
Sh. V. Kalyana Sundaram, STD, Puducherry, Sh.B.S.Chandra Sekhar, TD, Puducherry, Sh. R. Rajasekaran, Scientist-D, Puducherry and FMS support team coordinated and extended required technical support to the organizers (Postal Department) throughout the event.