PPA (OBPS) MoU exchange with eGov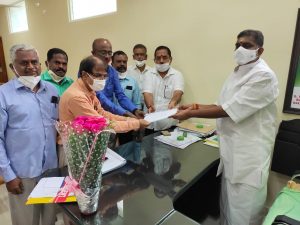 The MoU was signed between the Chief Town Planner, Town & Country Planning Dept. and eGov Foundation. The MoU was exchanged between the Town and Country Planning Department, Puducherry and eGovernments Foundation, Bengaluru on 18.09.2020 in the presence of Thiru.A.Namassivayam, Honourable Minister for Town Planning, Government of Puducherry. Thiru.K.Mahesh, I.A.S, Secretary to Government (Town Planning), Thiru.V.Sathiyamurthi, Chief Town Planner, Thiru.S.Sridarane, Senior Town Planner, Thiru.S.Rajasekaran, ASIO, NIC, Thiru.M.Kandarselvan, Member Secretary, Puducherry Planning Authority and Thiru.P.R.Krishnamoorthy, Vice President, eGov Foundations were present during the event.
Under the MoU, eGov will be providing eDCR, an auto scrutiny software for scrutiny of building plans and support the U.T. of Puducherry in effective and seamless implementation of Online Building Plan Approval System. The software for Online Building Permission System has been developed by NIC. The system has been developed in such a way that the general public can submit their application to the respective planning authorities through online, know their applications status through e-mail & SMS alerts and obtain permission through online. Now, the submission of application for Building Plans/Layouts through online for the four regions of U.T. of Puducherry. i.e., Puducherry, Karaikal, Mahe & Yanam, came into operation without auto scrutiny part. Now the Government has decided to integrate the auto scrutiny part using the DIGIT eDCR engine developed by the e-Government Foundation which will be integrated with software developed by the NIC, Puducherry.